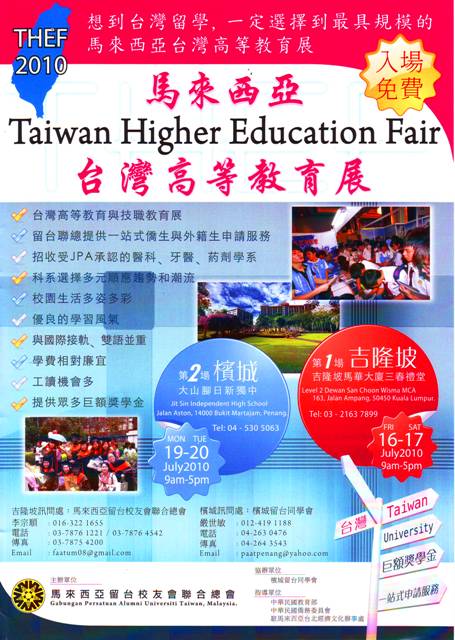 Malaysia Taiwan Higher Education Fair (THEF) 馬來西亞台湾高等教育展 2010, is claimed to be the most grand and biggest education fair of all, compared to all through the previous THEFs. Up to 60 universities participating, inspirational and informative seminars by professionals, experienced consultants and more to be explored,  it is not just a typical education fair, but surely will be out of one's expectation.
Host:
The Federation of Alumni Association Of Taiwan Universities, Malaysia
主办: 馬來西亞留台校友會聯合總會



Cooperate:
Penang Alumni Association of Taiwan Universities & Colleges, Malaysia
协办: 馬來西亞檳城留台同學會

Reasons to pay a visit:
A total number of 58 universities will be participating.
Integrated application services for locals and foreigner.
Medical, pharmacy and dentistry courses that are accredited by the JPA.
Wide spectrum of academic programs.
Scholarships.
Part-time programs.
Reasonable tuition fees.
Excellent schooling and learning atmosphere.
No entrance fees will be charged.
First Exhibition – Kuala Lumpur (吉隆坡马华大厦三春礼堂)
Guess to Opening Ceremony:
Deputy Minister for Higher Education, Professor Hou Kok Chung
高等教育副部长 何国忠博士
日期 Date: 16.07.10 to 17.07.10, Friday and Saturday
时间 Time: 9am-5pm
地点 Location: Level 2, Dewan San Choon Wisma MCA, 163 Jalan Ampang, Kuala Lumpur.
Contact
Mobile: 016-3221655
Tel: 03-7876 1221 /7876 4542
E-mail: [email protected]
Second Exhibition – Penang (大山脚日新独中礼堂)
Guess to Opening Ceremony:
Chief Minister of the State of Penang, Lim Guan Eng
槟城首席部长 林冠英
日期 Date: 19.7.10 to 20.07.10,  Monday and Tuesday
时间 Time: 9am-5pm
地点 Location: Jit Sin Independant High School, Jalan Aston, Bukit Mertajam, Penang
Contact
Mobile: 012-4191188
Tel: 04-263 0476
E-mail: [email protected]
Information From: www.mythef.blogspot.com