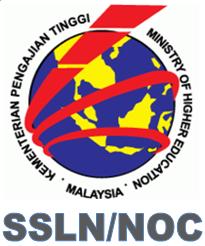 Many may not acknowledge that so called NOC (Non Objection Certificate) is actually referring to SSLN (Sijil Sokongan Luar Negara) or vise versa. In 2002, it was officially introduced by the Department Of Higher Education (Jabatan Pengajian Tinggi), under the Ministry of Higher Education (Kementerian Pengajian Tinggi). It was then further enforced in 2003 with the establishment of minimum requirement standards.
For overseas scholars, SSLN/NOC should not be a  certificate/document that appears to be strange, meanwhile, for those who wish to study abroad and have not heard of it as yet, please feel free to read through the rest of this article, since important information such as brief introduction to SSLN/NOC and explanation on how to apply for it will be provided and discussed in details.
About SSLN/NOC
What is SSLN/NOC?
Sijil Sokongan Luar Negara, also known as Non Objection Certificate.
One of the requirements (certificate) that must be met (obtained) by scholars who wish to pursue studies in overseas.
Why is SSLN/NOC important?
A certificate of prove that he/she is able to meet the minimum requirements for overseas studies.
Also used to obtain student VISA from foreign embassies.
Issuing of SSLN/NOC
Study Fields
Overseas Institutions
Recognized by JPA
Unrecognized By JPA
Medical
Yes
No
Dentistry
Yes
No
Other
Yes
Yes
Incorrect Perceptions on SSLN/NOC
Incorrect Perception #1

The issuing of a SSLN/NOC is for the purpose of applying or obtaining any study loans or scholarships.
SSLN/NOC is not issued for the purpose of application for any study loans or scholarships. The one and only role of it is just as a compulsory supporting document, which is needed in obtaining a VISA.

Incorrect Perception #2

SSLN/NOC will be issued as long as applicant is holding an offer letter from overseas institution.
There is no 100% guarantee that an applicant will be able to obtain a SSLN/NOC even though he/she is holding an offer letter from overseas institutions. This is due to every applicant has to fulfill the minimum requirements that are enforced by the Ministry of Higher Education, Malaysia, not by other countries.

How to Apply for A SSLN/NOC (Step1 – Step7)
Step 1: Academic Achievements Meeting Requirements
Ensure that academic achievements are fulfilling the requirements that are set by overseas universities.
Different universities have different standards, it is vital for applicant to ensure that respective requirements are met before applying for any study places.
Step 2: Apply for A Study Place
As long as applicants manage to fulfill all the academic requirements (stated in Step 1), applicant are eligible to apply for a study place in any chosen overseas institutions.
This is due to the offer letter from chosen overseas university will be required in completing Step 4.
Step 3: Complete the SSLN/NOC Application Form
Fill in the SSLN/NOC applicant form, which nowadays it can be downloaded from the

JPT (Jabatan Pengajian Tinggi) official website

.
In the homepage, click on the "Pelajar" tab.
On left hand side, search for a column with its title written as "Maklumat Untuk Pelajar".
Expand the row with its title written as "Pelajar Malaysia di Luar Negara".
Click on "Sijil Sokongan Luar Negara".
Down-loadable form (.pdf format) mainly will be available at the bottom of the article.
Step 4: Preparation of Supporting Documents
Below is a listing of general supporting documents that must be fully prepared by applicants (1 – 6).
No.
Supporting Documents
Documents
Quantity (copy)
1
Birth Certificate.
x 1
2
Identity Card.
x 1
3
Academic qualifications: SPM or other equivalent certificates recognized by the Government of Malaysia.
x 1
4
Academic qualifications: STPM or other equivalent certificates recognized by the Government of Malaysia.
x 1
5
Offer letter from overseas institution.
x 1
6
Passport size photo (colored) of applicant.
Note: This photo is to be affixed on the application form, a space for it mainly appears on the beginning part of application form.
x 1
Please note that these supporting documents will be listed at beginning part of the SSLN/NOC application form (try to locate the listing in the application form, since supporting documents listed above may not be up-to-date, thus, it is always better to refer to the official released guidelines)

Furthermore, further instructions will also be given in the form, such as how these supporting documents are to be handled:
– to whom to give to certify (sign)
– where the form should be submitted to
Step 5 – Step 7 mainly give the same instruction as the application form will, instructions in the form will be more than enough, hence Step 5 – Step 7 can be ignored if there is a better reference.

Step 5: Certifying of Supporting Documents
All supporting documents (1 – 6) must be certified (signed) by either:
Member of Parliament Member
ADUN
Group A Government Officer
Principal
Headmaster
Village Headman
Original and photocopy version of supporting documents must be shown to the verifier while certification (signing) is to be done.
Step 6: Submission of Supporting Documents and Filled Application Form
All certified (signed) supporting documents, together with the filled SSLN/NOC application form, must be sent to the following address:
Ketua Pengarah
Jabatan Pengajian Tinggi
Kementerian Pengajian Tinggi Malaysia
Aras 1, Blok E9, Parcel E
Pusat Pentadbiran Kerajaan Persekutuan
50604 Kuala Lumpur
(u.p Pengarah Bahagian Hal Ehwal dan Pembangunan Pelajar)
Step 7 (Optional): Contact to JPT, Malaysia For Further Information
In case there is any doubts or problems encountered, please do not hesitate to seek for assistance or advise.
Jabatan Pengajian Tinggi
Kementerian Pengajian Tinggi Malaysia
Aras1- 3, Blok E9, Parcel E
Pusat Pentadbiran Kerajaan Persekutuan
62505 Putrajaya
Tel: 03-8883 5999
Fax: 03-8889 4119
E-mail: [email protected]
Reference/Source: www.jpt.mohe.gov.my