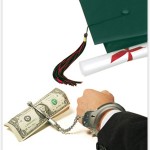 Several organizations in Malaysia are offering loans for students registered for Diploma and Degree programmes.
The listed organizations below are basically the most recommended organizations where you can apply your study loan with, because of their low rate of interest and their good reputation as well. Some of them are even under government control.

1.  PTPTN (Perbadanan Tabung Pendidikan Tinggi Nasional) or National Higher Education Fund
(Recommended – lowest rate of interest.)
The National Higher Education Fund Corporation (PTPTN) was established under the National Higher Education Fund Act 1997 (Act 566). It was established to provide financial aids in the form of loan for students who have gained admission at local universities or private colleges but are facing financial problems. PTPTN's objective is to ensure that no student should be denied access to higher education because of financial reasons.
2.  MARA Study Loan
MARA Study Loan Programme was introduced in 1966 when Majlis Amanah Rakyat (MARA) was formed. The MARA Loan scheme applies to students who join any private institution for '3+0' programmes. Students have to apply to the respective institution before applying for the loan.
3.  KOJADI (Koperasi Jayadiri Malaysia Berhad)
KOJADI was established in 1981 where its objective is to extend an effective student loan facility to enable students in need to pursue higher education, and to shape students into well-trained manpower to meet the demand for skilled human resources in the country.
4.  MIED (Maju Institute of Education Development)
Since the beginning of its operations in 1984, MIED has supported students in need by providing study loans to pursue their higher education and today it has become the leading provider of study loans to members of the Malaysian Indian community seeking such assistance for further education.