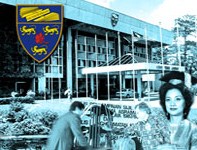 University of Malaya (UM) was once ranked position 89th in the list of Top 200 world universities, bestowed by the THE-OS (Times Higher Education – Quacquarelli Symonds), furthermore in year 2008, UM appeared as the top university in Malaysia through a rating system called Rating System for Malaysian Higher Education Institutions (SETARA). Being the oldest university in Malaysia, UM does not only plays an important role within the broad field of education, as well as performing its mission which is to advance knowledge and learning through quality research and education for the nation and for humanity.

Its Contact
– International and Corporate Relations Office (ICR), Level 1, Canseleri Building Universiti Malaya, 50603 Kuala Lumpur, MALAYSIA
– Tel: 603-7967 7022/ 3273
– Fax: 603-7956 0027
– Email: [email protected]
– International Undergraduate Enquiries: [email protected]
– Postgraduate Enquiries: [email protected]
Its Story
– Established in 1962
– The establishment of UM was through the merging of King Edward VII College of Medicine (founded in 1905) and Raffles College (founded in 1928)
– Tunku Abdul Rahman Putra Al-Haj was UM first Chancellor, who was also Malaysia's very first prime minister
Its Students
– cGPA 3.20 out of 4.00 (maximum), is the average entry requirement for any undergraduate courses
– Local undergraduate students: Exceed 13,500
– Local postgraduate students:  Exceed 5,500
– International undergraduate students: Exceed 850
– International postgraduate students: Exceed 2,000 (over 78 countries)
Its Staff
– Academic stuff: Exceed 2,500
– International Academic Staff: Exceed 550
– Non Academic Staff: Exceed 3,500
Its Size
– Campus (university): Covers 795 acres, around 7,673,019 square feet
Its Facilities
1. Library – Consists of over 1.2 million volumes of monographs, bound journals and manuscripts and journal subscriptions of over 3,600 titles.
2. Security – 24hours of protection against violent theft, destruction of property, fire and other violent crimes.
3. Postal Services – Inclusive of express mail, general mail, air mail and bill payment services.
4. Financial & Banking Services – Bank Bumiputra Commerce Berhad, Bank Islam Berhad and Bank Simpanan Nasional are strategically located within UM, procedure required in order to apply National Higher Education (PTPTN) Fund can easily be done.
5. UM Coorperative Book Shop LTD.  – One-stop solution bookstore, accept orders for local and overseas publication and selling various genres of books, including academic materials as well.
7. Perdanasiswa Complex – A place where UM's post office is located, where several ATM machines are located and also a preferable location where students like to meet each other during breaks.
8. Transportation and Travel – Total of 22 shuttle buses operate within and around UM, route options cover big area and link up several important pick-up points. UC travel agency, a place where it handles the booking of travelling tickets, hotel reservations and as a van rental agency.
9. UM Press – Services inclusive of publishing, printing and editorial.
10. Unit Perundingan Universiti Malaya (UPUM) – University of Malaya Consultancy Unit, a unit dealing with operations which mainly include negotiations and consultations.
11. Recreational – Managed by the Sport Centre, any sport activities which ranging from indoor to outdoor, respective facilities are accessible to be utilized by every members of UM.
12. Rumah Universiti – An ideal place to stay overnight for UM's visitor, it is also a perfect spot to hold meetings and seminars where rooms are fully equipped with audio-visual equipment
Its Attractions
What makes UM appears to be unique?
1. Museum of Asian Art
They are approximately 6,000 artifacts being well kept in this building which comprises of 3 spacious floors. What can be found in this museum such as ceramics and some ancient treasures were descended from different Asian countries and some of it have been existing for 4,000 years.
2. Universiti Malaya Symphony Orchestra (UMSO)
A place where talented musicians are being sought and auditions are being held. For those who are good at playing musical instruments but not majoring in musical studies, also stand a chance to be a part of this journey to meet the essence of artistic.
3. Rimba Ilmu – Botanical Gardens
It occupies an area of 80 hectares, covered with different species of plant from different regions, climates and atmospheres, these include the Pacific islands, Australia, South America, Africa and Madagascar, with approximate 1,600 species are recorded, Rimba Ilmu is currently hosting a programme called The Environmental Education Programme in collaboration with Malaysian Nature Society (MNS). This programme aims to promote environmental awareness among the general public so that nature can be well-reserved for generations to come.
Its special features and facilities include the Conservatory of Rare plants and Orchids, the "Rain forests and Our Environment" exhibition and the lay out of living collections such as the medicinal plants, bamboos and palms are major references used for environmental education and preservation purposes.
4. Experimental Farm
Covers an area of 7 hectares, with various type of facilities, students are given chances to do research on various branches of animal, plant science and to carry out other biological science disciplines.
5. University of Malaya Field Studies Centre of the Ulu Gombak Biodiversity Centre
A destination where the growth of flora and fauna exceed the timeline of 40years, it is an ideal place to dig unexpected biological and ecological knowledge. Visitors such as the Institute of Medical Research (IMR), the US Army Medical Research Unit and few international intellectuals, were impressed by discoveries on this land and done many field experiments which results were extraordinary and brought breakthroughs to biological and ecological studies.  Moreover, the centre is also giving opportunities to school children to pay visits and have an experience of being tied up in a greenbelt.
References: www.um.edu.my & www.mns.org.my