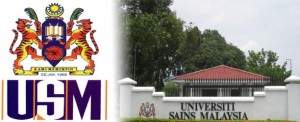 An university which does not only relate to sciences, but almost everything that one expects to find.
Since its establishment in 1962, USM has implemented a school system, where USM was the pioneer in Malaysia to adopt this system. Through this system, each school enables a better focusing and integration on respective chosen degree, moreover, by grouping similar faculty under one school, students are given the opportunity to explore what is beyond their area of study, especially when knowledge of other schools are eligible to be discovered by each and every one of them.

Important facts
Its Contact
– Public Relations Office, Universiti Sains Malaysia, 11800, Pulau Pinang Malaysia
– Tel : +604-653 3140/3314 
– Fax : +604-658 9666
– Email : [email protected]
Its Vision
-"Transforming Higher Education for a Sustainable Tomorrow."
Its Achievements
– Once ranked position 111th  in the list of Top 200 world universities, bestowed by the THE-OS (Times Higher Education – Quacquarelli Symonds.
– The only winner from Malaysia who awarded the Asian Innovation Award.
Its Student
– Local student: Exceed 20,000
– International student: Exceed 1,700
– Undergraduate student: Exceed 18,000
– Master student: Exceed 4,800
– Doctorate student: Exceed 1,400
Its Size
– Main Campus (Penang): Covers approximately 500 acres.
 Its Facilities and Student Activities
1.
Teaching facilities
a. Cultural Hall
b. University Conference hall
c. Main Student Hall
d. Lecture Hall Complex
e. Computer Laboratories
f.Research Laboratories
g. Student Centre 
2.
Public Facilities 
a. Cafetaria
b. Coorperative Book Store
c. Pharmacy
d. Convenience Store
e. Al-Malik Khalid Mosque
f. Security Services
g. Development Services
h.Health Centre
i. Post Office
j. Guest house
3.
Bank 
a. CIMB Bank Muamalat 
b. Bank Simpanan Nasional 
c. Bank Islam ATM Machine
4.
Sports Facilities 
a. Swimming Pool
b. Sports Complex – Badminton/Fitness Training Room/Gymnasium/Ping Pong/Squash 
c. Courts – Basketball /Volleyball/Takraw/ Tennis 
d. Fields -Handball/Football/Netball/Golf/Archery/Rugby 
e. Hockey Stadium
f. Athletics Stadium 
5.
Co curricular Activities 
a. Armed Uniformed Units-Undergraduate Police Volunteer Corps (SUKSIS) 
– Reserve Officers Training Unit (Army)
– Reserve Officers Training Unit (Navy) 
– Reserve Officers Training Unit (Air Force) b. Unarmed Uniformed Units
– Scouts
– St.John Ambulance Brigade
– Emergency Aid Team – Red Crescent Societyc. Self-Defence (Martial Arts)
– Karate 
– Kungfu 
– Silat Cekak 
– Silat Gayung Malaysia 
– Taekwando d. Student Societies
– Student Representative Council
– Hostel Residents' Council
– Art Club /Society
– Welfare Club/ Society
– Language & Culture Society
– Religious Society
– Recreation and Welfare Clube. Social Services Programmes

f. Entrepreneurship Programmes
 What makes USM appears to be unique?
1. The Concept: University in a Garden
The main concept of initializing University in a Garden is to depict the strong ties between USM itself and the nature while playing important the role as an institution of higher learning. As infusing within a green environment which totally germinates the feeling of garden and fresh setting, University in a Garden nurtures the spirit of preserving the environment and campus verdancy within behavior of USM members.
Main elements that succeeded this concept inclusive of various flora and fauna plantation and preservation, lake which streaming with its tranquil surrounds, some artificial features and most important of all, the well-being of USM members who never hesitate in giving effort. Furthermore, each corner and nook of the garden is designed due to different themes, it is also the key purpose to enhance the appearance of USM.  Indeed, today USM has become a model garden university which its elegant are enviable to be exemplified.
2. The Concept: Education for Sustainable Development (EfSD)
What is EfSD?
The ultimate aim of it to help an individual to nurture, learn and develop the attitudes, skills and knowledge required to make informed as well as determinant decisions for the benefit of himself or herself,  and also to others, for current period and in future to come, and to make sure that behaviors and acts are upon these decisions.
2005-2014 has formally been declared by the United Nation as period of The United Nations Decade of Education for Sustainable Development (EfSD) This declaration is especially subjected to all educational institutions and the relevant agencies so that to tailor brand new educational goals to for the future generations while sustaining the greatest possible opportunity for the present generation. 
For USM, the EfSD is a continuation for the concept of University in a Garden, this it is believe that what have been achieved through the previous as well as current concept, are patches that will succeed the concept of EfSD.
References: www.usm.my & www.unesco.org