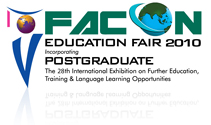 Facon, with more than 18 years of experience in organizing exhibitions in the region and after 26 highly successful education shows since 1990, they are now once again organizing the 28th Facon Education Fair in March 2010!
As one of the largest education fairs in this region, Facon Education Fair Incorporationg Postgraduates 2010 (March), is superbly timed because it will be held around the release of the SPM and STPM results. During this period, students and parents will be eagerly collecting vital information on programs and institutions of higher learning to pursue their further education.
Deciding your future?
For you as a student, a visit to the Facon Education Fair may marks a new phase in your life. This is where you will be makeing your decision not only on the choice of your program, but also the education institutions to help them build your future. For others, Facon Education Fair is a place for you to gather information to help you make an informed choice for your educational needs.
As usual, the fair is open to everyone especially students, school leavers, parents, young working adults and academic staffs. There will be Education and Career Talks, Fun Contests and many other events with prizes during the fair.
Peninsular Malaysia
| | | |
| --- | --- | --- |
| Kuala Lumpur | Mar 13 & 14 (Sat & Sun) | Kuala Lumpur Convention Centre |
| Alor Setar | Mar 16 (Tue) | Holiday Villa Hotel |
| Penang | Mar 17 (Wed) | Traders Hotel |
| Ipoh | Mar 18 (Thu) | Syuen Hotel |
| Malacca | Mar 19 (Fri) | Equatorial Malacca Hotel |
| Johor Bahru | Mar 20 & 21 (Sat & Sun) | Persada Johor International Convention Centre |
Time: 12pm to 6pm
Admission: Free
East Malaysia
| | | |
| --- | --- | --- |
| Miri | Mar 12 (Fri) | Grand Palace Hotel |
| Kuching | Mar 13 (Sat) | Crowne Plaza Riverside |
| Sibu | Mar 14 (Sun) | RH Hotel |
| Sandakan | Mar 19 (Fri) | Sandakan Hotel |
| Kota Kinabalu | Mar 20 (Sat) | The Pacific Sutera, Sutera Harbour Resort |
| Tawau | Mar 21 (Sun) | MB Hotel |
Time: 12pm to 4pm
Admission: Free
With a superb track record since its inception in 1990, Facon Education Fair is now recognized by the education industry as one of the most effective platform to promote and disseminate information on courses offered by renowned institutions of higher learning. In previous years, the Fair has attracted more than 400 participating and represented institutions from Malaysia and overseas. It has also attracted international groups of institutions from China, Germany, Japan, Netherlands, Singapore and USA, underlining the recognition of the event. That's not all, 60,000 high quality visitors throng the events proving that Facon Education Fair is the most effective promotional and recruitment platform for institutions of higher learning.
The Fair is officially supported by the Ministries of Education and Higher Education in recognition for its success and contributions to the education sector.
Facon Education Fair's is known for its renowned aggressive and effective publicity mechanism and with the official supporting media, New Straits Times (English) and Nanyang Siang Pau (Chinese), will ensures that the Fairs are regularly featured in both the print and electronic media.