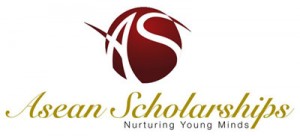 The Singapore Ministry of Education is pleased to offer ASEAN Scholarships to outstanding students for studies secondary schools and junior colleges in Singapore leading to the General Certificate Education advanced Level ( or equivalent) . Students who perform well in the GCE A-level Examination may continue their undergraduate studies at the National University of Singapore (NUS) ,Nanyang technological (NTU) or Singapore Management University (SMU) on scholarship or bursaries than the universities administer.

The ASEAN Secondary One Scholarships is tenable for 6 years leading to the award of the Singapore-Cambridge General Certificate of Education Advanced (GCE A) Level (or equivalent) certificate.
Value Of Award
Exemption from school and examination fees
Annual allowance of S$2,200 / approx RM5,200 (Secondary)
Accomodation (board & lodging)
Return transport allowance to and from Singapore (one time)
Others – including medical benefits, settling-in allowance etc
THERE IS NO BOND ATTACHED TO THE SCHOLARSHIP
Who Can Apply
Nationals of Malaysia
Secondary One Scholarship – born between 1996 and 1998, studying in Standard 6/Form 1 or its equivalent
Secondary Three Scholarship – born between 1994 and 1996, studying in Form 2/ Form 3 or its equivalent
Pre-University Scholarship – born between 1992 and 1994, studying in Form 5 or its equivalent. Those who completed the SPM or the GCE O-Level in 2009 with excellent results may also apply.
How To Apply
Applicants are strongly encouraged to apply online at http://www.moe.gov.sg/education/scholarships/asean from 6 March 2010 (0600 hours) – 15 April 2010 (2200 hours) GMT+8.
Application forms can also be obtained from:
High Commission of Republic of Singapore
209 Jalan Tun Razak, 50400 Kuala Lumpur
Consulate-General of the Republic of Singapore
Suite 35.02, Level 35
Johor Bahru city Square Office Tower
106-108 Jalan Wong Ah Fook
80000 Johor Bahru
CLOSING DATE: 15 APRIAL 2010 (be fast!)