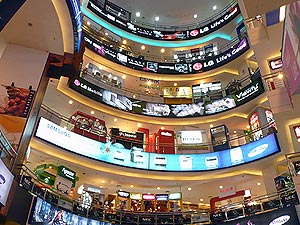 For those of you(foreign students) who just came to Malaysia and want to buy a computer, Low Yat Plaza would be your best choice. Low Yat Plaza or LYP is currently the most popular and famous I.T. shopping complex in Malaysia. You can find almost anything about I.T. products there – desktop or laptop computers, computer parts/peripherals, computer software, game consoles, handphones, gadgets and many more.
Why would I call LYP as the greatest I.T. shopping complex?
You may try to ask any Malaysian around you where would be the best place to purchase a computer, I'm pretty sure the answer would be the same.

Where is LYP located?
Plaza Low Yat is located in the state of WP Kuala Lumpur, and is opposite to Berjaya Times Square if coming from Imbi Monorail Station and behind Sungei Wang Plaza if coming from Bukit Bintang Monorail station, please refer to the map below(taken from Google Map).
How to Get Here?
-By own transportation
To get to Low Yat Plaza car park entrance, you may enter via Jalan Bulan 1.
Car Park Entrance –
Car Park Rates:
1st Hour or Part Thereof
RM 2.00
2nd Hour or Part Thereof
RM 2.00
3rd Hour or Part Thereof
RM 1.50
4th Hour or Part Thereof
RM 1.50
5th Hour Onwards
or Part Thereof
RM 2.00
Flat Rate (Per Entry)
after 7.00pm to 6.00am
(Sunday to Thursday only)
RM 4.00
Lost or Damage Ticket
RM 50.00
– By LRT
Get off from Hang Tuah LRT Station, Takes a 15 minutes or 500 meters walk towards East direction along Jalan Hang Tuah, cross the road of Jalan Pudu and continue the walk on Jalan Imbi. An alternative is you may take Monorail at Hang Tuah Monorail Station, just opposite the Hang Tuah LRT station, then get off at Imbi Monorail Station or Bukit Bintang Monorail Station for RM 1.20.
After that, refer to the map given below and walk to the complex that you want to go.
– By Monorail
Get off from Imbi Monorail Station or Bukit Bintang Monorail Station. Then, refer to the map given below and walk to the complex that you want to go.

-By Taxi
Any Kuala Lumpur Meter Taxi will get you there.
-By Public Bus
Rapid KL – U27, U31, U32, U44, U45, U46, U47, U48, B102, B103, B110, B113
Metrobus – 4, 41, 49/191, 50/55, 62, 77
You should leave the bus when you arrive the bus stop near McDonald infront of BB plaza and then refer to the map given above and walk to the complex that you want to go.
Features and Highlights
The structure of Low Yat Plaza consists of level. Each floor within the complex has its own speciality products. Below is a brief summary of the building.
B5,B4,B3,B2
Basement Car Park
B1
Basement Car Park
Karaoke Box (Red Box)
LG
Video and Audio-related Shops
ATM Machines
Food and Beverage
Gifts and Crafts Shops
GF
IT Branded Shops (Mac Studio, Microsoft, Sony, etc)
Gadgets Shops (Cameras, mobile phones, etc)
Audio Visual Shops
Photography Stores
Guardian Pharmacy
Food and Beverage
UG
Boutique and Fashion Shops
Hair and Beauty Saloons
Money Changers
ATM Machines
Book Stores
Gadget Stores (not much)
1F
Communication-related Stores (Mobile phones, accessories, etc)
Hair and Beauty Saloon
IT Shops (not much)
2F
IT Shops
3F
IT Shops
Offices
Food and Beverage
4F
Arcade Centre
Offices
Warranty Departments
Cyber Café
Telecommunications (Digi, LG Mobile, etc)
Electronic Shops
Audio Visual
Food and Beverage
*IT shops here selling all kinds of technology stuffs such as dekstop and laptop computers, computer parts, cameras, etc.
For more information about Green Box Karaoke, please refer here.
 
Items' Price Range
IT stuffs selling in Low Yat Plaza are probably the cheapest among all other IT complexes. Below is a summary of price range of some products sells at Low Yat Plaza. The prices below are just for references. The actual prices are highly dependent on the brand, performance and quality of the items.
| | |
| --- | --- |
| Dekstop Computer | RM800~RM8000 |
| Laptop Computer | RM800~RM12000 |
| Mobile Phones | RM200~RM3500 |
| Cameras | RM300~RM9000 |
| Computer Parts an Accessories | RM5~RM3000 |
| Arcade Centre | RM0.50 ~ RM1 (Per Game) |
| Cyber Café | RM3~RM5 (Per Hour) |
*All price listed above are just for reference, actual price might be different.
*For weekly updated Low Yat price lists, please refer to the LOWYAT PRICELISTS section on left hand side of lowyat.net.
Reference
Most of above information are extracted from an article written by me in triblo.com.