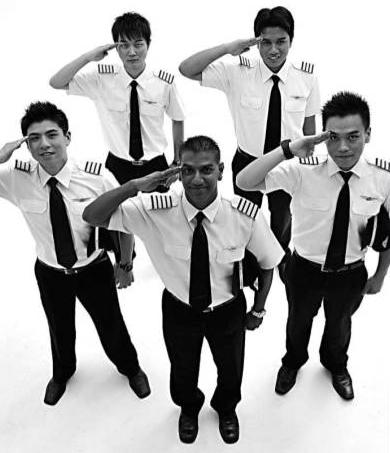 One with ambition to become a pilot  should always ask this question, though it sounds like a very simple sentence, yet it is the most important of all.
"With dream to become a pilot, I wish to take up flying as a profession or just  a hobby?"
Before any answers come out in mind, try to consider. To become an airman who is focusing on the  "commercial" way or to fly an airplane under a recreational atmosphere, both of it no doubt has very big differences in between.
Like to play computer games does not mean interested in developing games.
Well, becoming a private pilot is definitely "easier" than obtaining a commercial pilot license. From very general views, "easier" in the way that less phases or procedures are involved, which this eventually leads to less time and money consuming, furthermore, flying can be done in a more flexible mode, where a private pilot does not have to fly according to arranged schedules, most vital of all, of course that will be able to conduct airplane flying with purposes that are majority lie on the portion of relaxing and enjoying.
So, after all there is nothing good about taking up flying as a profession? Not at all for sure, compared to private flying, a commercial pilot can be paid to fly, whereas a private pilot will not get even a penny although carrying of passengers is allowed during flying sessions. Moreover,  a commercial flying is considered more challenging, as vast more skills and knowledge applying situation will be encountered. Maybe sometimes workloads and working environment can be stressful, however, if in return this give the chances of  visiting to countries around the world, some airman would consider it as a worthy case which there are no regrets about it.
Anyhow, regardless of what is the final answer, following words will be focusing on some ideas or know-hows of how one can become a professional pilot, which is the first (profession) of mentioned two in this case. We believe that person who wishes to take up flying as a profession are still more than those who want to experience flying an airplane as a hobby. Thus very straight forward, to become an professional pilot, 2 of the most common paths are:
Enroll into a Flying School or Aviation Academy
a) Requirements / Qualifications
b) Approaching
c) What's Next
a) Requirements / Qualifications
Considering academic, medical and personal requirements. Standards can be vary from country to country and school to school, hence, since this website focuses mainly on Malaysia's education circle, therefore if one is to ask about it, suggested requirements upon enrolling into any Malaysia's flying schools / academies are (one must be…):
#1 At least 17 years old
Some flying schools require applicant to be at age of 18 upon enrolling, it does not really matter in fact, this is simply because in order to take part in any flying courses, one must either be successfully completed SPM or GCE O-level studies in advance, while possession of any equivalent qualifications will be eligible as well. Why is that so? (Discussions on GCE O-level and "equivalent qualifications" will be seen in the next session, now a little bit about SPM first) Here is the complementary, annually at year end, there are almost 99.99% of scholar in Malaysia take SPM while their are at age of 17 and gain results on the coming year, so in other words, they will be seeing their result while the same at time turned into 18 on that particular year, therefore no matter how, generally while enroll as a cadet, one is at age of 18 rather than 17.
#2 Successfully completed SPM / GCE O-level or possess any equivalent qualifications
In the previous section, we did mention about this , "one must either be successfully completed SPM or GCE O-level studies in advance, while possession of any equivalent qualifications will be eligible as well" Well, honestly have to say that the completion of mentioned studies (any) is just a very basic academic requirement to be met, whereas results' grades are what really being concerned. "But why certain flying training course does not require any of these, those results' grades, whereas just "completion" will do?" some may ask, an answer to this question will be the PPL (Private Pilot License), this is due to in Malaysia, the academic requirements required to enroll into a PPL course is just a completion from mentioned studies (any). Well, as its name implies, "private pilot", hence one who holds this license will not be paid to fly even thought carrying of passenger is allowed, it is not "commercial", furthermore, this session is about how to become a professional pilot, so we expect one would at least wishing to achieve their flying career as a commercial pilot, but not to take up flying an airplane as a hobby, therefore PPL at here is not really what we want to discuss.
Moreover, what are GCE O-level and so called equivalent qualifications for? These two options are actually  designed to be referred by applicants from foreign countries who wish to pursue flying course in Malaysia, as SPM only being conducted in Malaysia. For more information, example for "equivalent qualifications" can probably be Diploma / Degree in Engineering or Science-related disciplines.
[spoiler effect="slide" show="SHOW academic requirements table – SPM, GCE O-level, equivalent qualifications" hide="HIDE academic requirements table – SPM, GCE O-level, equivalent qualifications"]
Applicant
Malaysian

Foreigner

Option 1

Science Stream:


SPM with 5 credits including:
– English
– Mathematics
– A science subject
(Physics, Biology, Chemistry)


Art Stream:


Low chance of being offered a study place, due to the Department of Civil Aviation, Malaysia (DCAM) has established the academic requirements to be at least 5 credits from applicant's SPM result, while including a science subject is compulsory. However, some flying schools / academies are accepting applicants from art stream studies, instead of picking a science subject from either Physics, Biology or Chemistry, the subject, General Science may be applicable.
–
Option 2
GCE O-level result with passes for similar subjects as stated in Option 1 under Science Stream.
Option 3
Any other educational qualifications equivalent to SPM or GCE O-level.
E.g: Diploma / Degree in Engineering or Science-related disciplines
*Related educational qualifications must able to be approved by the Department of Civil Aviation, Malaysia (DCAM).

*In Malaysia, SPM is equivalent to GCE O-level
–
[/spoiler]
#3 Pass Class 1 Medical Examination
Specially tailored for those who wishes to construct their future career path in becoming a pilot, this medical test will making sure that one is eligible and is "fit" in all medical aspect required in order to enroll into any flying courses. Generally known as first-class medical certificate, rather than being a piece of prove of one's healthiness / body condition, it can also be considered as an accessing pass, without it, an applicant will fail to enroll into any flying schools, without it, a cadet will not be issued a pilot license, without it, a pilot will no be allowed to fly an airplane…, therefore in short saying, one's flying career will definitely be ended if fails to get or renew it. In Malaysia, personals who responsible in carrying out this kind of medical examination are called as DAME (Designated Aviation Medical Examiner), officially recognized and approved by the DCAM (Department of Civil Aviation, Malaysia), these professionals (actually majority of them are family or specialized doctors, whereas being a DCAM's medical practitioner is just another identity) can be located at almost every state in Malaysia, with reasonable price offered, mainly around RM150-RM200 per examination, a thorough check will be run through.
[spoiler effect="slide" show="SHOW class 1, first-class medical certificate standards / requirements" hide="HIDE class 1, first-class medical certificate standards / requirements"]
Synopsis of Medical Standards (CLASS 1) from FAA, U.S.
Visual Acuity

Distance Vision:


20/20 or better in each eye separately, with or without correction.


Near Vision:


20/40 or better in each eye separately (Snellen equivalent), with or without correction, as measured at 16 inches.


Intermediate Vision:


20/40 or better in each eye separately (Snellen equivalent), with or without correction at age 50 and over, as measured at 32 inches.
Color Vision
Ability to perceive those colors necessary for safe performance of airman duties.
Hearing
Demonstrate hearing of an average conversational voice in a quiet room, using both ears at 6 feet, with the back turned to the examiner or pass one of the audiometric tests below.
Audiology
Audiometric speech discrimination test: Score at least 70% reception in one ear. Pure tone audiometric test. Unaided, with thresholds no worse than:

| | | | | |
| --- | --- | --- | --- | --- |
| Hertz (Hz) | 500Hz | 1000Hz | 2000Hz | 3000Hz |
| Better Ear | 35 dB | 30 dB | 30 dB | 40 dB |
| Worst Ear | 35 dB | 50 dB | 50 dB | 60 dB |

Ear, Nose, Throat (ENT)
No ear disease or condition manifested by, or that may reasonably be expected to maintain by, vertigo or a disturbance of speech or equilibrium.
Pulse
Not disqualifying per se. Used to determine cardiac system status and responsiveness.
Blood Pressure
No specified values stated in the standards. The current guideline maximum value is 155/95.
Electrocardiogram (ECG)
Cardiovascular standards for a first-class airman medical certificate are:
(a) No established medical history or clinical diagnosis of any of the following:

1 Myocardial infarction;
Angina pectoris;
Coronary heart disease that has required treatment or, if untreated, that has been symptomatic or clinically significant;
Cardiac valve replacement;
Permanent cardiac pacemaker implantation; or
Heart replacement;

(b) A person applying for first-class medical certification must demonstrate an absence of myocardial infarction and other clinically significant abnormality on electrocardiographic examination:

At the first application after reaching the 35th birthday; and
On an annual basis after reaching the 40th birthday.

(c) An electrocardiogram will satisfy a requirement of paragraph (b) of this section if it is dated no earlier than 60 days before the date of the application it is to accompany and was performed and transmitted according to acceptable standards and techniques.

Mental
No diagnosis of psychosis, or bipolar disorder, or severe personality disorders.
Substance Dependence and Substance Abuse
A diagnosis or medical history of substance dependence is disqualifying unless there is established clinical evidence, satisfactory to the Federal Air Surgeon, of recovery, including sustained total abstinence from the substance(s) for not less than the preceding 2 years. A history of substance abuse within the preceding 2 years is disqualifying. Substance includes alcohol and other drugs (i.e., PCP, sedatives and hynoptics, anxiolytics, marijuana, cocaine, opioids, amphetamines, hallucinogens, and other psychoactive drugs or chemicals).
Disqualifying Condition
Unless otherwise directed by the FAA, the Examiner must deny or defer if the applicant has a history of: (1) Diabetes mellitus requiring hypoglycemic medication; (2) Angina pectoris; (3) Coronary heart disease that has been treated or, if untreated, that has been symptomatic or clinically significant; (4) Myocardial infarction; (5) Cardiac valve replacement; (6) Permanent cardiac pacemaker; (7) Heart replacement; (8) Psychosis; (9) Bipolar disorder; (10) Personality disorder that is severe enough to have repeatedly manifested itself by overt acts; (11) Substance dependence; (12) Substance abuse; (13) Epilepsy; (14) Disturbance of consciousness and without satisfactory explanation of cause, and (15) Transient loss of control of nervous system function(s) without satisfactory explanation of cause.
Reference: U.S. Department of Transportation, Federal Aviation Administration (FAA) – www.faa.gov
Synopsis of Medical Standards (CLASS 1) from DCA, Malaysia
VISUAL ACUITY
– At least 6/9 in each eye separately, & 6/6 with or without correction with both eyes.
HEMOGLOBIN & URINALYSIS
ELECTROCARDIOGRAM (ECG)
AUDIOLOGY
CHEST X-RAY
– Pulmonary Function Tests (PFT) / Lung Function Tests, if there are respiratory risk factors cause from smoking, asthma etc.
LIPID PROFILE
– Fasting Blood Sugar (FBS)
Reference: Department Of Civil Aviation (DCA), Malaysia – www.dca.gov.my
–
[/spoiler]
#4 At least 165cm tall
165cm, which is approximately equivalent to 5 feet and 4.96 inches or 1.65 meters. This height is just an average value, therefore may not be representative. As there are some flying schools / academies just require applicant to be having at least 163cm (5ft 3in or 1.63cm)  tall upon enrolling.
#5 Able to communicate well in English language
More: Qualifications and Requirements of Becoming a Professional Pilot in Malaysia
b) Approaching
Nowadays, most of the flying academies own their own website, hence, one can always find out more (courses offered, facilities, fees, intakes, collaboration airlines, accreditation, online application) by browsing through related websites. Well, in case one do not have any internet accesses, spare time and visit to education fair will be another good option, since some academies are quite active in joining these fairs, recruiting cadets. However, have to suggest that approaching oneself directly to the academy is the best move of all to be taken, besides than able to conduct face to face interaction, one can also take a 'tour' in the academy, which this will definitely helps one to get to know more about the flying school, or maybe to make sure that whether the study environment / atmosphere, facilities, teaching modules have any in-outs as what have been heard or shown on promo videos / brochures.
More: Malaysia's Aviation and Flying Schools
Do not put all eggs in one bucket, take some time to do comparison (between academies) in different aspects as possible, choose the best option.
c) What's Next
Once undergoes training, one will probably consider about job placement, will there be any guarantees of getting a job upon completion of courses. Very sincerely, it will be a No for it (job guaranteeing), however at most of the time, personnel / authorities / staff from flying school will be willing and ready to give informative guides on how to go about it. Due to nowadays flying schools usually hold a strong bond with renowned international airlines, hence, the best possible effort will surely be contributed while at the same solving cadet's difficulties. On the other hand, one is encouraged to take the initiative to browse through different aviation related websites (airline's website), as notice of hiring may be posted, sometimes on newspaper as well related news will be shown.
Sponsorship from an Airline to Pursue Flying Courses
a) Approaching
b) Requirements / Qualifications
c) What's Next
To be sponsored by an airline to undergo flight training should always considered as something that must be cherished, as these limited chances are not always available.
a) Approaching
So, how to know whether an airline is recruiting cadet? Mainly there are 2 means nowadays:
#1 Mass Media
recruiting advertisement on internet
– airlines' websites
– jobstreet.com (do not be surprised when seeing MAS's recruiting notices from here)
recruiting advertisement on newspaper / magazine / radio / television
#2 Education Fair
some airlines are active in joining related fair, recruiting cadet and flight attendant
The first mean (#1) is the most common of all to be seen or noticed, which online recruiting happens the most at present, compared to others. Whereas for the second way (#2), it possesses a lower chance due to sometimes airlines' booths are focusing on filling flight attendant positions only, however, it does not mean that cadet pilots recruiting will never be happening on education fairs, just that not so often, probably once in a blue moon (rarely).
b) Requirements / Qualifications
There are no definite specifications, because majority of the airline will have their own ruler of measurement while recruiting cadet, therefore a wise action would be always referring to a set requirements / qualifications only, to avoid confusion. 
E.g: If one is trying to apply the cadet position offered by airline A, then he/she should only refer to the standards established by airline A, but not airline B or airline C).
Please be aware that these requirements / qualifications are always published together with recruiting notices. Read each and every line attentively, as any carelessness may fail one's application.
c) What's Next
Applicant will be notified the result of application (through either e-mail, letter, phone call or online-checking). At this point, those who failed to be sponsored will normally be informed (some will be with reasons of failure), whereas successful applicant will be given further instructions.
Successful applicants most of the time will be given trainings internally, but not sent to any flying schools / academies. As this actually make senses because different airlines can own different models of plane,  hence it is reasonable to train cadets by using their own "machine" from the very beginning, so that once cadets involve themselves into real  working environment, in no time coping can easily be done as familiarity will definitely take some advantages.